by Sarah Halloul
I do not think that all the experiences we go through in life end up changing us gracefully but I can wholeheartedly say that this experience was one of the loveliest I had gone through.
I am a 25 year old Tunisian citizen who had the opportunity to travel to Germany in Early September and who has been marked by the experience in a variety of ways. I had the chance to discover the calm atmosphere of Vlotho and the loud city life of Berlin. I was also able to see with my own eyes the diversity as well of the complex shape of the German society.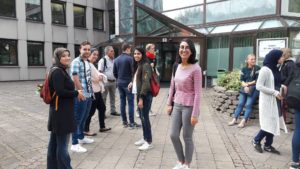 I was lucky enough to try traditional German meals, visit several museums such the one in Vlotho and I enjoyed a session of Geocaching as well. The discussions about the changing societal structure in addition to civic engagement and political participation were very interesting because I was able to view the topic through multiple perspectives, both Tunisian and German. I had the chance to meet Dr Angelika Germ and Rocco Wilken who received us at the Town hall and spoke about the structure of Vlotho, its historical legacy, changing population and current economical state.
I also participated in workshops revolving around identity and empowerment which is a prominent topic for many Tunisian women who are fighting for their rights and against rigid gender roles. It was practical for me to have a clearer idea about the current challenges for Democracy in Germany and know more about the sociological changes happening in Central and Eastern Europe.
I appreciated all aspects of the culturally driven experience and cannot wait to visit Berlin again and know more about the city that never sleeps!
Sarah Halloul is a Tunisian participant of the program "Living and Shaping Democracy" at GESW. She studies English and American Literature in Tunis and Sousse and is currently working as a teacher.